Implant Dental Lab
The Art of Aesthetics is a state-of-the-art implant dental lab offering a wide range of dental implants. In addition, we can facilitate the most advanced implant abutments, including zirconia, titanium, and UCLA gold abutments. Furthermore, we can customize patient-specific abutments to fit every patient's condition.
About Us
Contact
Technology & Implant Dental Lab
Thanks to digital technology, you don't have to wait weeks. Digitally processed dental implants are not only fast but affordable. In addition, for peace of mind, patient-specific prosthetics come with a comprehensive warranty from our partners, Atlantis, or a lifetime warranty from ZimVie Dental.
Please give us a try for a few cases and see why we are so confident that we will earn your trust! As with many dentists, we guarantee you will not regret it. Let us know if you need help connecting to The Art of Aesthetics, a prestigious implant dental lab.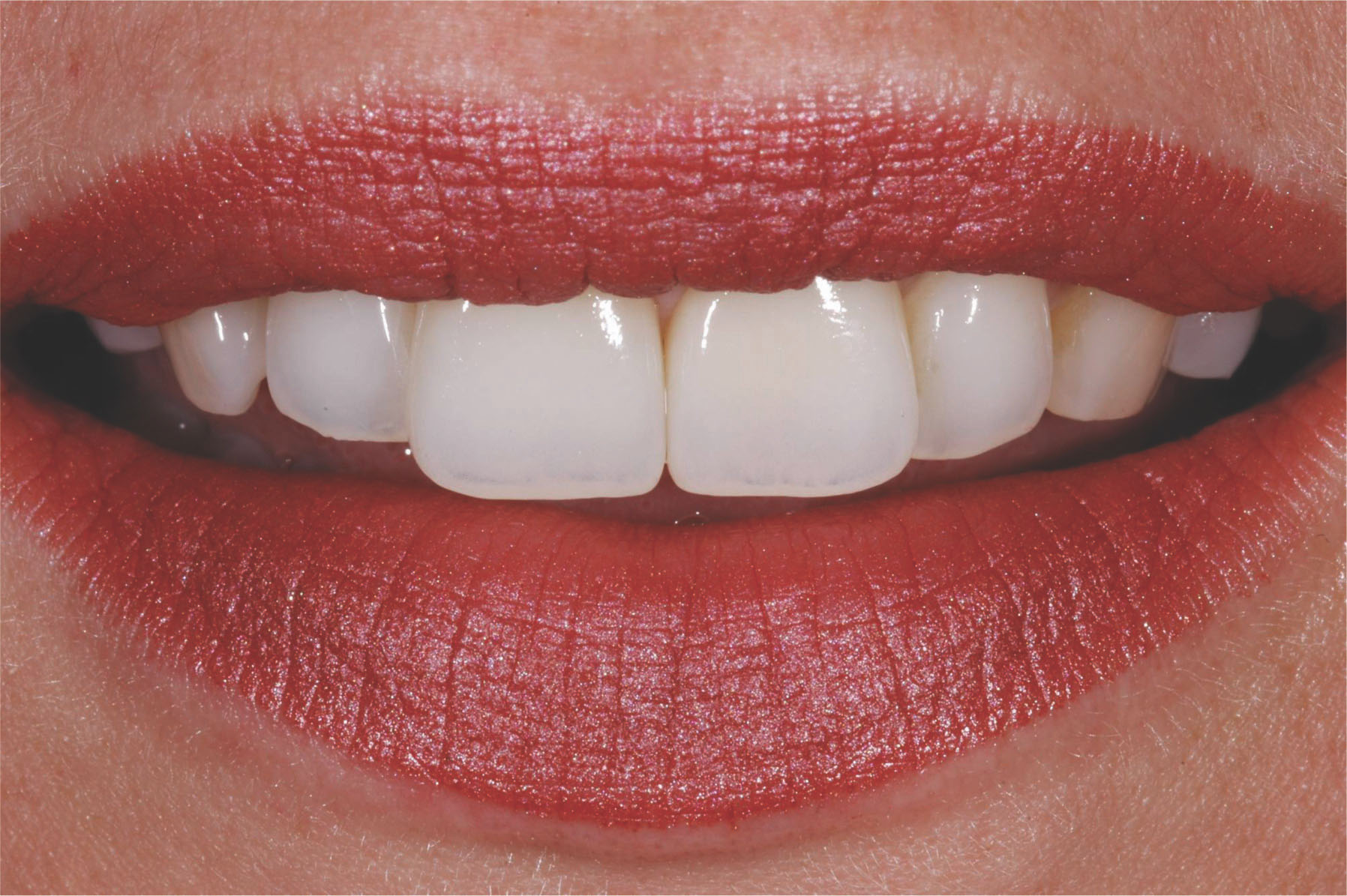 Genuine Materials
Zirconia Layered

CAD Zirconia

Porcelain Fused to Metal

IPS e.max

IPS e.max ZirCAD

CAD Full Gold Crown

Empress
Implant Abutments:
ZimVie

Atlantis

Zirconia

Hybrid Zirconia

Titanium

Gold-hue

UCLA Gold

Encode Healing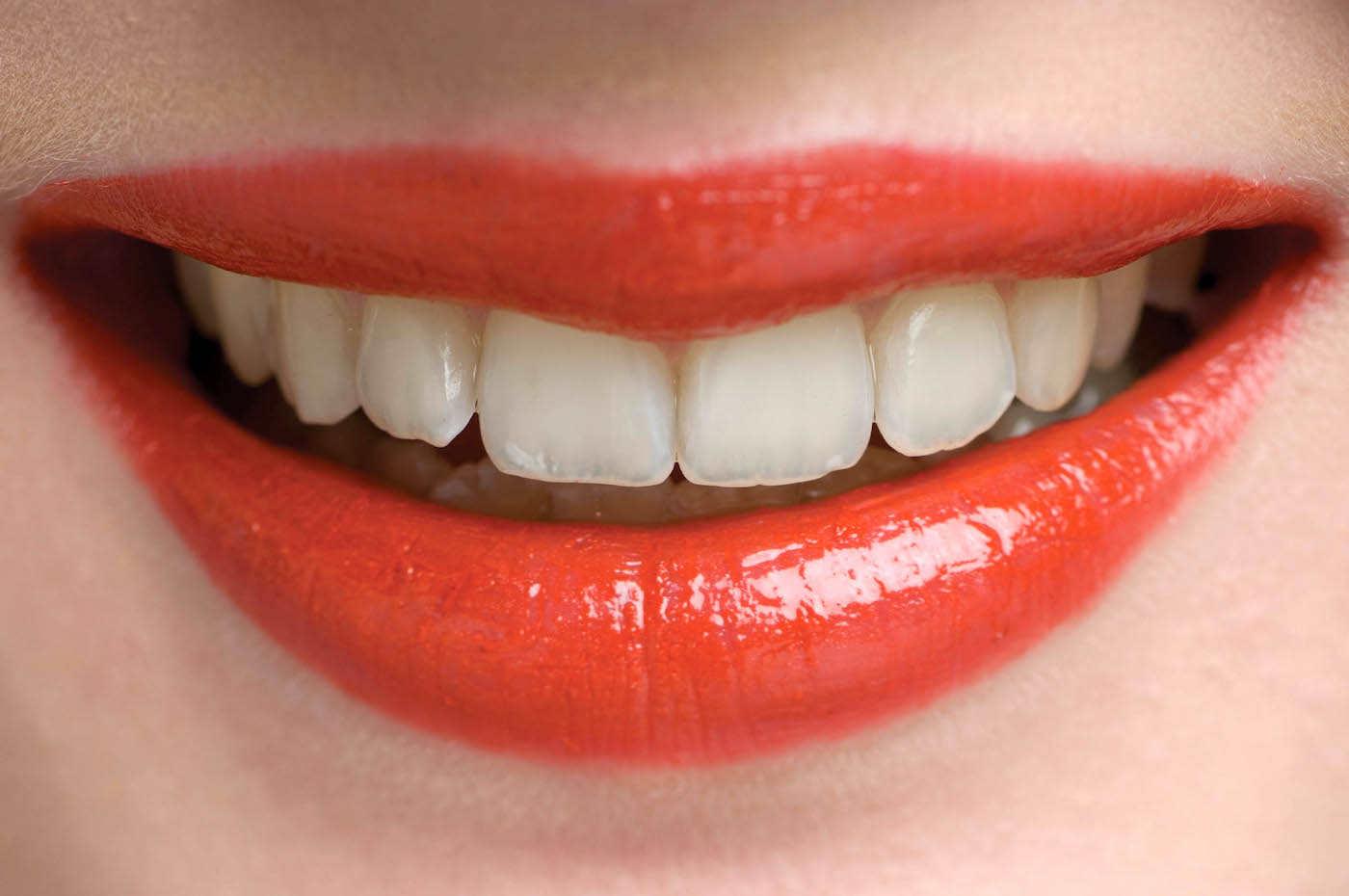 State-of-the-Art Products:
Implants

Crowns

Bridges

Full Mouth

Veneers

Surgical Guide

Digital Printing
After a few decades of establishing ourselves as an implant dental lab, we have worked hard to give our clients the best services possible. Frankly, we have never compromised with the quality and integrity of our business, which is what made us what we are today! If you have any requests, please let us know.
Dental Implants Came a Long Way
The first impression is the lasting impression. In fact, our facial expression and smile make up most of the first impression. For some, a smile showing beautiful white teeth can be attractive. Surprisingly, after much thought, we all agree that there is a phrase, "a million-dollar smile." No wonder some people don't spare for a beautiful smile makeover, including dental implants.
So, what is a dental implant?
Dental implants are an alternative to a prosthetic bridge of missing one or more teeth due to an injury or infection. It's a permanent replacement for your natural abutment and teeth to prevent further complications. Its benefit includes long-term support for your teeth. However, since it may depend on the condition of your jawbone, it is not for everyone. Therefore, your dentist takes images of your teeth and bone to examine your suitability for dental implants. Please note that the comprehensive treatment can take many months, primarily because the healing around the bone can take time.
Nowadays, we live longer thanks to advanced medical technology, including dental.
Even a few decades ago, dental implants were for wealthy people due to the high costs associated with surgery and the cost of restorations. In addition, implants were limited to a few conditions because of the availability of abutments (a few angle stock abutment choices) and UCLA gold abutments. In addition, it didn't help that not their dentist and implant dental lab lacked experience, expertise, and training.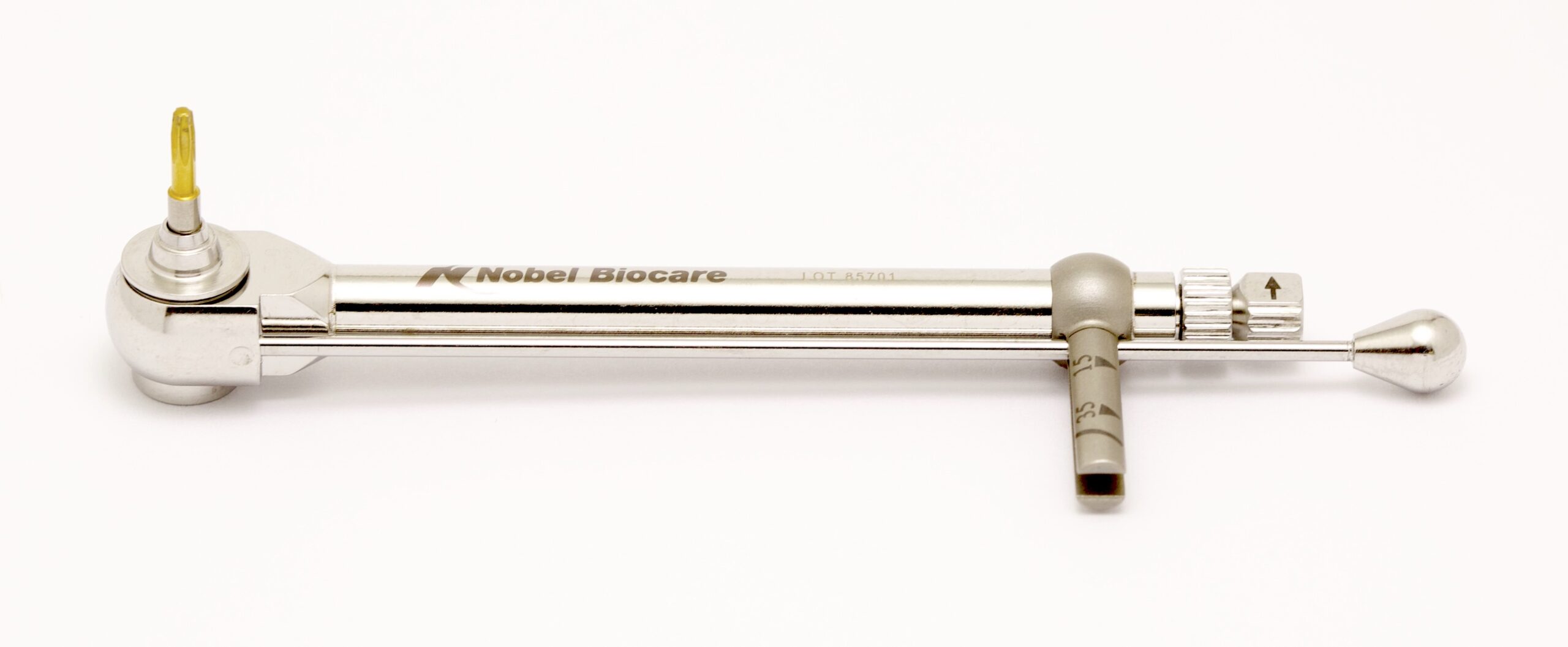 As a state-of-the-art (aka SOTA lab) implant dental lab, zirconium dioxide (known as zirconia, Bruxzir, or Lava) offers excellent choices for custom abutments and implant crowns or full mouth reconstructions. The Art of Aesthetics is a prime source for all your zirconia products and services. We offer the best possible combination in a laboratory: excellent products, talented ceramists with the finest education, the newest technology, and many years of successful stories. Talk to us today and discover what you have been missing all these years!
Everything you need to know about dental implants from an implant dental lab stand.
Digital Surgical Guide Sleeve
Dentists specializing in dental implants perform a procedure to insert prosthetic tooth roots (or posts) into your jawbone. The restoration begins after a few months of healing the bone around the implants. Typically, an implant dental lab fabricates crowns and abutments behind the scenes. Since we are a dental laboratory, this writing doesn't cover the details of the surgery procedure or provide expertise on implants. If you are a future patient, visiting your local dentist is advisable.
For a dentist, we can help you to prepare for your surgery by providing surgical guides. If you have a CBCT, please send us the digital files for the surgical guide sleeve.
Screw-Retained vs. Cement-Retained
Is screw-retained better than cement-retained? If you say so. Some dentists prefer screw-retained since they don't have to clean up the cement residues. However, some prefer cement-retained for superior aesthetics.
In addition, we understand that there are many factors why you prefer screw-retained instead of cement-retained implant restoration, including retrievability, location, no cementation, and even personal preference. However, not all implant patients are suitable for screw-retained, including location, angulation, aesthetics, and other factors. As such, please note that we will switch to cement-retained without advance communication with your office if screw-retained is not ideal. However, if screw-retained is necessary for some patients, please inform us beforehand. As always, we do our best to accommodate your patient's needs. Also, please note that two proximity teeth implant restorations will likely be cement-retained.
Our proposed combination of

abutments and crowns.
Titanium Abutment (either customized or stock) – PFM, FGC, Full Zirconia

Anodized Gold-hue Titanium (customized or stock) – Full Zirconia, Zirconia Layered, e.max

Zirconia Abutment – Full Zirconia, Zirconia Layered, e.max

Hybrid

Zirconia- Titanium Abutment – Full Zirconia, Zirconia Layered, e.max
Gold Abutment (known as UCLA or gold-plastic) – PFM, FGC, Full Zirconia, Zirconia Layered, IPS e.max
Materials of Dental Implants in
Implant Dental Lab
Selecting materials for implant restorations is the most critical part of the process. Depending on the patient's expectations, you can choose from the five common abutment materials: titanium, titanium gold-hue, zirconia, zirconia-titanium hybrid, and UCLA gold, as described below.
How do you select a good brand of implant?
What's best for my patients? There are no simple answers since most manufacturers offer good-quality implants. A good rule of thumb is avoiding implants concerned by the United States Food and Drug Administration (FDA). If they have a recall history, it's not a good indication since it's too late to go with all the trouble of replacing any recalled products. To save you time, here is a simple way to find out. Go to the FDA homepage and search for recall or warning letter. If you see either a recall or a warning letter issued to the manufacturers, you may want to stay away from them.
Our favorite combination: Patient-Specific Zirconia Implant Abutment and Zirconia Crown
The Art of Aesthetics is a world-class implant dental lab. One of our favorite abutment-crown combinations is the aesthetic patient-specific zirconia abutments and zirconia crowns. In fact, they are aesthetics and exhibit one of the strongest restorations. Also, the layered zirconia crown is one of the most aesthetic and natural. Further, compromising on the quality of products is not an option for us. Therefore, it's one of our clients' favorite implant restorations. In addition, our dental technicians receive ongoing training to ensure that we always deliver uncompromised quality to you. Patient satisfaction is always our top priority!
Titanium Gold-hue Abutments
(Customized Patient-specific)
One of the reasons for dental implants is aesthetics. Thus, demonstrating metal color exhibited conspicuously through your teeth, especially anteriors, can be unattractive or unpleasing. However, titanium metal is preferred due to its advantageous characteristics. Therefore, plating with gold, known as gold hue anodization, may eliminate the issue. In addition, it can pair with e.max or zirconia crowns without the transparency of the metal.
However, the limitation of titanium is that some patients may have allergic reactions to titanium alloys. Thus, zirconia and gold abutments are the answer.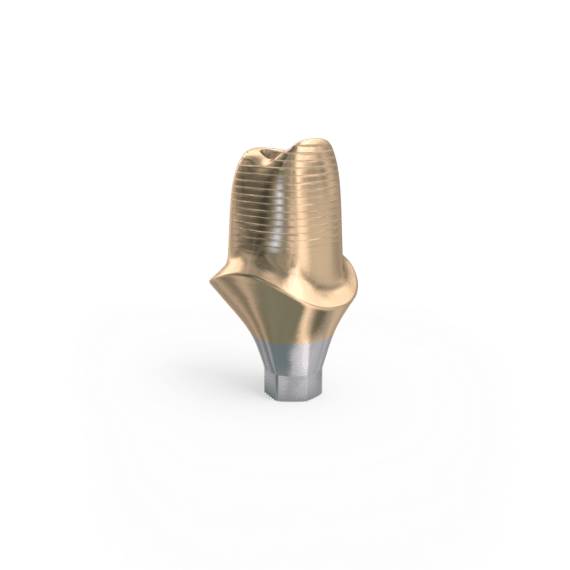 Atlantis Titanium Gold-hue Patient-specific Abutment
Titanium Stock Abutments
Therefore, titanium stock abutments come in handy. However, it's more costly since it must be ordered from the original manufacturers. In addition, it may require milling to be patient-specific, which is another time-consuming and expensive process. Of course, there are generic versions of most brands. However, we recommend avoiding them for the reason that they are not backed by the original manufacturers when an issue occurs. Yes, the generic version costs less, but not significantly to make a dent in most patients' budgets.
After all, getting dental implants must undergo complicated oral surgery, again, not a simple procedure. Furthermore, the patients will live with the prosthetics for many years, if not a lifetime. So why bother with lesser or not proven safe products to save a few bucks?
Patient-specific Zirconia Abutments
Zirconia in the dental industry is a game-changing product. Until a couple of decades ago, dental products were limited to metal and ceramic materials. Although zirconia (or zirconium oxide in specific) is also a type of ceramic, it requires much more advanced technology to manufacture, for example, zirconia abutments and crowns.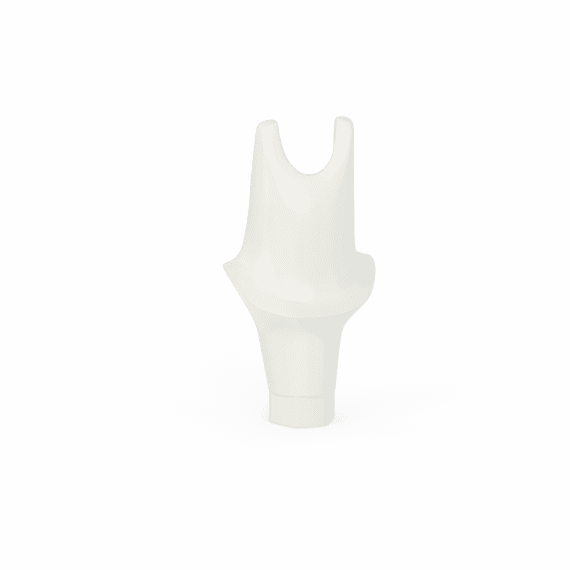 Atlantis Patient-specific Zirconia Abutment
Furthermore, we recommend patient-specific zirconia abutments if you prefer "one-piece" abutment or no connectors. Of course, alternatively, one-piece full zirconia abutments are available, but we experienced a higher failure rate. Therefore, someone like our implant dental lab will carefully select such products.
Patient-Specific Titanium Abutments
Titanium is a durable, lightweight, elastic, low thermal conductivity, corrosion resistant, and biocompatible metal used in medical applications or high-technology industries such as aviation and aerospace. In addition, it's used in medical and dental since they are "friendly" to human bones in most cases. Therefore, it has the highest success rate in dental implants.
Titanium abutment comes in two ways. The ideal way is to customize the design and milling from the preformed titanium block. We also refer to this process as digital or CAD-CAM, computer-aided design, and computer-aided manufacturing. It accommodates every condition and need of the patients, including angulation, size, and length. The only disadvantage is that not all brands or platforms can be customized.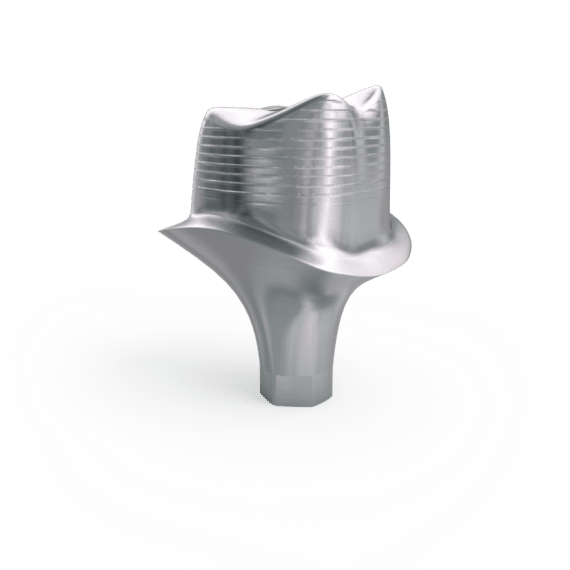 Atlantis Titanium Patient-specific Abutment
Zirconia-Titanium Hybrid Abutments
Our dental lab offers a solution with a hybrid zirconia-titanium abutment to address the limitation of the solid zirconia abutment. You get both benefits: the aesthetics of zirconia and fracture-resistant titanium. It is suitable for most conditions, including anterior and posterior restorations. In addition, you can select a monolithic zirconia crown (aka BruxZir), IPS e.max crown, or layered zirconia crown (CAD-CAM full zirconia framework with stacked porcelain).
The hybrid is the most popular abutment since it is both aesthetic and durable and can go with most types of dental crowns and bridges. Also, its uncomplicated process is advantageous for screw-retained restorations.
Gold (known as UCLA or plastic-gold)
Abutments
The UCLA or gold-plastic abutment is one of the first customizable dental implant abutments. The plastic part is castable with any dental alloys. So the process for gold abutment is similar to a full gold crown, waxup to the patient-specific anatomy, and cast with gold. In fact, you can cast the abutment and full gold crown together as one-piece restoration.
The UCLA, short for University of California at Los Angeles Abutment (UCLA Abutment), is ideal for smaller implant abutments. Another benefit is applying ceramic as porcelain fused to gold for screw-retained.
UCLA abutment was popular until about ten years ago when the gold price was affordable. However, today, the gold market hovers around $2,000 per ounce and has become less affordable for dental implants. Meanwhile, dental technology advanced significantly, and the use of titanium became more practical. Also, the cost of manufacturing titanium abutments is reduced considerably. Despite all that, we think gold abutments will be around for a long time.
CAD-CAM & Implant Dental Lab
In the last decade, zirconia revolutionized the dental industry, upbringing digital adaptation in dental laboratories—specifically the development of CAD-CAM technology. But, of course, we all know that CAD-CAM has existed in other industries for decades. Many dental product manufacturers improved 3D scanning capability to aid CAD-CAM technology, developing a small and precise way to scan the patient's mouth for impressions digitally.
The first CAD-CAM was developed a few decades ago but wasn't popular in the dental industry. Until the turn of the decade, it was not practical as few dentists and technicians knew how to use it, and it was expensive.
Stronger than Metal Zirconia
The myth is that zirconium oxide material surpasses metal for durability or strength. While sometimes it's true, a metal abutment, specifically titanium, is resistant to fracture due to its flexural propensity. However, zirconia has higher tensile strength, making it more wear and tear-resistant.
As with CAD-CAM customized titanium implant abutments, we can customize solid zirconia abutments to a patient's anatomical profile. The Art of Aesthetics outsources to Dentsply Atlantis and ZimVie, Zimmer Biomet 3i, for their superior quality and durability. In addition, these outstanding manufacturers offer good warranties. Thus, another reason to stick with genuine implant brands.
For solid zirconia abutment, we recommend restoring with zirconia crowns or IPS e.max crowns to keep it metal-free restorations. Since this combination is the most aesthetics in dental implants, they are suitable for all anteriors, except other than a healthy bite or teeth grinding patients.
Digital Impression
At The Art of Aesthetics, an implant dental lab, we can accept files from most intraoral digital scanners in the industry today. For example, we are:
Partner in Align Technology iTero Intraoral Scanner

Certified

Trios

Ready from 3Shap

e
CEREC inLab Connect (DS Core) for Dentsply Sirona Intraoral Scanner.
Margin Marking Dental Laboratory for 3M or Midmark True Definition scanner.
In addition, we can accept STL files from Medit, Straumann, VivaScan, Carestream, and others.
Please check how to connect or transmit to The Art of Aesthetics, which specializes in dental implants.
Types of
Impressions
Although we accept all types of impressions, we prefer PVS. Overall, for us, traditional PVS impression has a higher success rate. A couple of things we request: be sure to double-check that the impression coping is not rotated by snapping in place. So many times, if you reuse parts such as impression coping or analog, the worn or damaged parts may rotate or lose when taking an impression. It may render "misplacement" or "not fitting" at the final delivery. Please do not recycle or reuse implant parts even if they look "like new." In case we receive "unusable" or "worn" parts, we will provide new parts, including analog, analog screws, and coping.
Open Tray Impression Technique
Our preferred implant impression technique is the open tray method. It locks in place with a screw, reducing error, especially during the transfer stage. A closed tray is acceptable if an open tray impression is not possible. Again, please be sure to press the impression coping "all the way" to snap in place.
Implant Scanbody
As an implant dental lab, we notice many dental practices are unfamiliar with implant scan bodies. As a matter of fact, many are confused without giving much time to learn them. However, once you understand them, they are relatively simple to follow.
With The Art of Aesthetics, you have two choices for scan bodies:
Genuine or original scanbody from the implant manufacturers, for example, Straumann.

Atlantis scanbody if you require an Atlantis implant abutment. Please remember that Atlantis brand implant abutments may take slightly longer than our in-house abutments.
Often, we receive implant cases using a generic or compatible version of scanbody.
Although our intention is not to criticize, we have a higher success rate with the above two types of scanbodies. You can always order the original scanbody from your suppliers. On the other hand, we can order one if you need a specific body scan.
Also, we need a specific brand and platform, for example, Straumann RC or NC. Often, we receive wrong information, wasting our time, costs, patient frustration, dentist's time, etc. Therefore, taking extra time to verify the detailed information will result in successful dental implants.
Selecting an Implant Dental Lab
The bottom line is that wine tastes better with the proper food. It is because the wine should be in harmony with the flavor of the food. The same goes for abutment, crown, and implant dental lab.
Taking the right amount of time, paying for top-quality products, and selecting an excellent dental lab are the most important secrets to a successful implant restoration. The saying "You get what you paid for" has a significant meaning in the dental industry. Why do some dental laboratories offer cheaper restoration of dental implants? Now you know. Also, why are some labs overpriced? No clue!
In Summary
In short summary, The Art of Aesthetics recommends the following:
One-piece solid

zirconia

abutment with e.max layered or zirconia layered crowns for anterior implant restorations for a normal bite for superior aesthetics.

One-piece solid titanium abutment with porcelain fused to metal, full cast crown, or solid zirconia crown for all other bite conditions. For example, overbite, underbite, deep bite, crossbite, etc. However, metal showing through is your concern, titanium anodized gold is an option.

Zirconia-titanium abutment with porcelain fused to zirconia (zirconia layered), e.max layered, or monolithic zirconia is for various conditions.
If dental implants CAD-CAM custom is unavailable, stock abutments or UCLA abutments are preferred. Please check with us for availability.
About The Art of Aesthetics Implant Dental Lab
We started our dental lab in 2003 in Indianapolis, IN, to serve high-end implant dentists. Our first lab is State-of-the-Art Dental Studio or Sota Lab, as in our home page domain. After that, we sold the lab and moved to California, a much warmer and sunnier place. Since then, we have been specializing in dental implants. As a result, implant dentists around the country trust us with their patients because they know what to expect from us.
Not only do our clients enjoy our quality work, but our fees are significantly less than our worthy competitors. You can find out by trying a few cases with us. However, we have only one condition. Give us clear work orders – instructions and impressions. We minimize reworks and adjustments; in return, we charge less than other labs. So, again, give us good impressions showing clear margins and enough reduction, accompanied by clear instructions. Then, you will receive the highest quality products from us.
At The Art of Aesthetics, we take a dental lab's vital part in delivering unparalleled restorative solutions and aiding the success of dental offices.
We know the challenges the labs and dental offices face. Therefore, we seek to overcome these obstacles by partnering with dental practices.
Over the past few decades, we have established and experienced various brands of implant systems. For example, we are familiar with Straumann, Zimmer Biomet, BioHorizons, 3i Encode Healing Abutments, Nobel Biocare, Dentsply, Camlog, Hiossen, Osstem, Implant Direct, Neoss, Megagen, ZimVie, and Atlantis.
Don't take our word for it.
The Art of Aesthetics satisfied thousands of smiles around the country. Please don't take our word for it. Although we receive compliments daily, we sampled a few on our testimonial page. Unlike some of our competitor's homepages, these praises are verbatim from our clients.
Straightforward Services
The modern world we live in makes our lives more complicated. Not so with The Art of Aesthetics. If you give us a good impression and pay us on time, we will tender the services you have not experienced before. Straightforward as that. In order to keep our services more affordable, we prefer checks and ACH as payment methods. However, we accept credit cards with a small fee. Please read our terms & conditions and how to start sections on our website before you send dental implants. Also, please fill out the client form and email it to us with your first case. We need this form to begin the restoration process. Have any questions, contact us!
This article is written by Andrew Young, owner of The Art of Aesthetics Inc., a digital cosmetic & implant dental lab located in Santa Rosa, CA. All contents on this page are original, and the copyright protects them. Therefore, copying or using any of the contents without written permission is forbidden by law. In addition, this website and its contents are not intended for medical conditions or purposes.
Handmade
The Art of Aesthetics Implant Dental Lab combines state-of-the-art machines with exceptionally talented technicians to construct patient-specific "handmade" crowns, bridges, and implants. As a result, we design and create perfect crowns that eliminate grinding off the anatomy surface at the chair side. Therefore, choose us for your everyday patients' needs. We will earn your trust with each patient and provide you with impeccable products.
Implant-Cosmetic Combination Restoration
Furthermore, we have experienced implant-cosmetic ceramists to fabricate both implant-cosmetic combination restorations. Moreover, we can duplicate your study model or diagnostic wax-up if there is enough reduction. As an implant dental lab, we need a study model with photos for full mouth reconstruction or porcelain laminate veneers. If possible, please send us a diagnostic wax-up with multiple unit restorations. In addition, we will need two shade information for all anterior restorations involving all-porcelain materials such as emax: dentin shade and final crown shade.
Exceptionally Consistent
The Art of Aesthetics is built on a reputation for exceptional consistency. Our mission has been to keep up with the latest technology and latest materials, as we do not want to supply mediocre products to our valuable clients and their
patients. Therefore, compromising quality or rushing through the process has never been our approach.
We Service Like Your Local Implant Dental Lab
Even though we may not be local to you, we are only a phone call away! Also, our delivery is the fastest and safest, like your local call. Give us a try and see for yourself.
There is no such thing as too much information when it comes to restoring implant crowns and bridges, especially involving difficult anterior shades. 
We understand that your demanding patients don't want to go with a temporary crown longer than necessary. Also, we know that patients don't want to sit in a dental chair longer than necessary. Therefore, at The Art Of Aesthetics, we want to do our job correctly the first time using all the information and instructions provided by your office. Please provide us with as much detail as possible on your patients' conditions and preferences. Also, digital pictures help to match the shade.
Please double-check to ensure that your digital or non-digital impressions don't have any voids or distortions before you send them to us.
Also, margins should be clearly visible 360 degrees around. If the bite is not stable, please send us a bite record. Again, please use the double-cord method to take digital or non-digital impressions. Finally, we are glad you chose us as your go-to implant dental lab.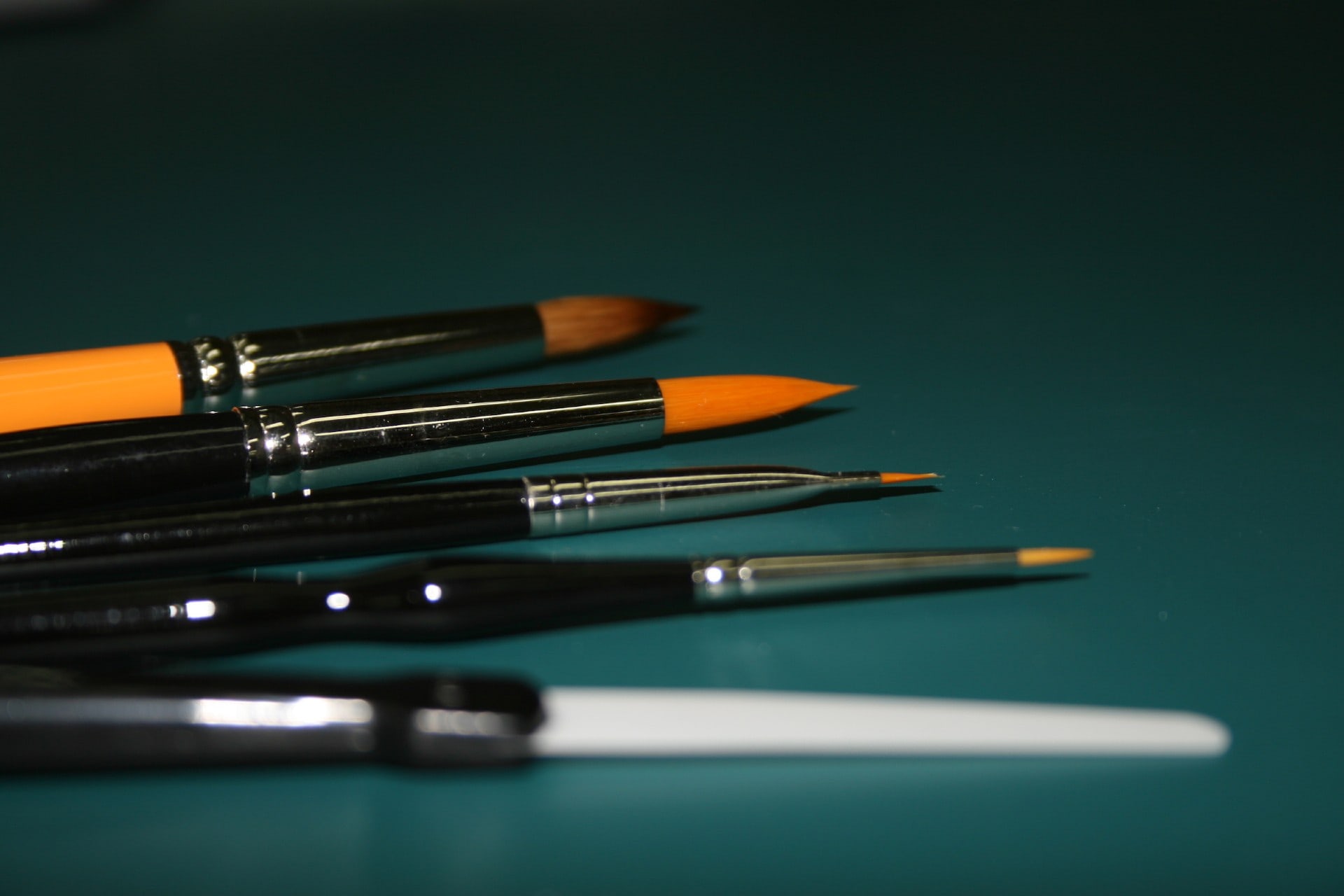 Please note that when we outsource some of the work to a third-party manufacturer, it can take a little longer. For example, Atlantis implant dental lab and ZimVie custom implant abutments or 3D model milling from Align iTero. As such, we have no control over when they will arrive back in our lab. Therefore, please withhold scheduling your patient's next appointment until you hear from us. Alternatively, you can contact us for an approximate return date. When an abutment seems not right, or you are having difficulties with delivering it, please ensure to review our note, email, or instruction we may relay to your office while discovering working in our lab.